DUSE THEATRE Bologna Art Hotels
Hôtels à Bologne, Italie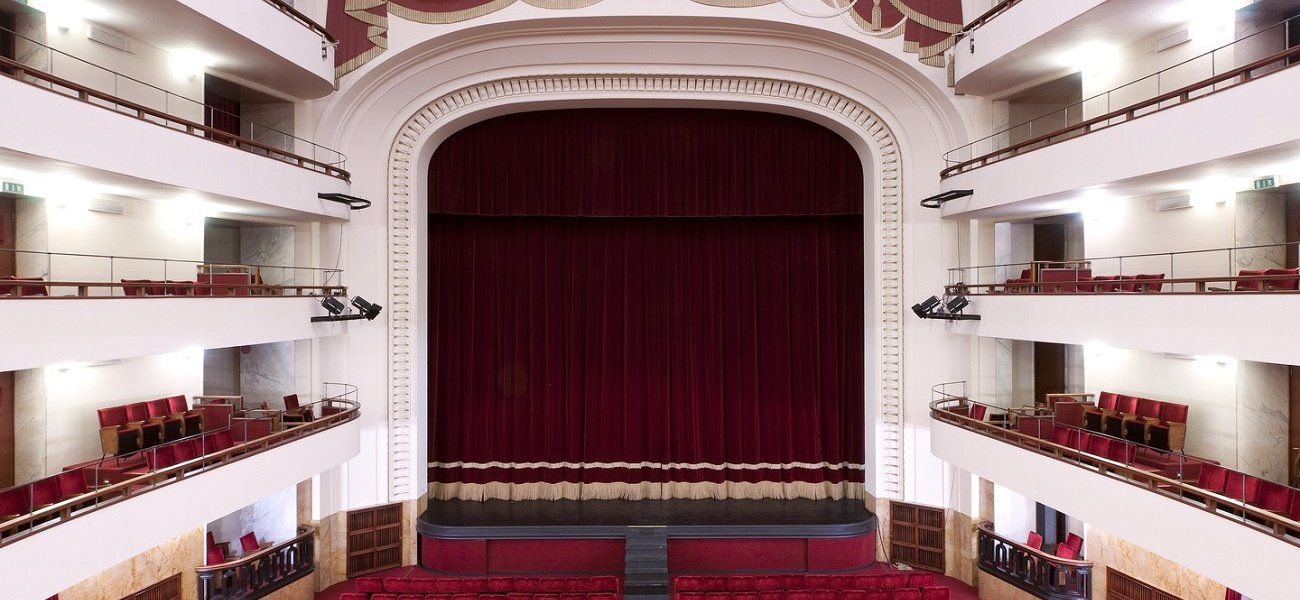 DUSE THEATRE
IL RIGORE CHE NON C'ERA
21 FEBRUARY 2019
By Federico Buffa
Il rigore che non c'era is the new show by Federico Buffa: the greatest Italian Storyteller resumes his theatrical adventure, with a text that starts from sports stories to become a historical, poetic, musical fresco. (Show in Italian)

PARENTI SERPENTI
22 – 24 FEBRUARY 2019
By CARMINE AMOROSO
Parenti serpenti is known by the public at large thanks to the film "cult" by Mario Monicelli of 1992: bitter and amusing comedy by Carmine Amoroso, tells a Christmas at the home of the elderly parents who wait all that year to see their long-lost children. (Show in Italian)

TUTU
27 FEBRUARY 2019
By Chicos Mambo
Chicos Mambo, born in 1994 in Barcelona from an idea by Philippe Lafeuille, choreographer and mettur en scene, is a group that currently brings together six excellent versatile and technically sophisticated artists with whom Philippe reinterprets the dance world, watching it with irony and poetry. More sophisticated than the Trocks, the world of Chicos Mambo is in fact also linked to the imaginary, to the imagination, to the grace as well as of course to the universe-world of dance, from the classical ballet down. (Show in Italian)

ERMAL META E GNU QUARTET | A TEATRO
28 FEBRUARY 2019
By Ermal Meta, Gnu Quartet
ERMAL META: from the Forum of Assago to the Palazzo dei Congressi in Lugano; of sold out in sold out from the first stop to the last concert of the Non We Armi Tour, celebrated with the Platinum Record for the album We Do not Have Arms and with Gold for the single From sunrise to sunset (previously, it goes also remembered the Platinum for Non mi avete fatto niente ).

MI AMAVI ANCORA
1-2-3 MARZO 2019
by Ettore Bassi e Simona Cavallari
The writer and playwright Pierre died in a car accident. In an attempt to tidy up his documents, Anne, his widow, discovers the notes taken for the writing of a future comedy, which dealt about a married man, writer, passionate and in love with a young actress. Fiction or autobiography? The doubt and the question "Did you still love me"...? (Show in italian)

LA MERDA
7 MARZO 2019
by Cristian Ceresoli
After winning the Edinburgh Fringe and having an enormous success of audiences and critics all over the world, seven years after his debut, the poetic flow of consciousness about the human condition - the phenomenon that has long broken the boundaries of the theater and it is received as if it were a rock concert - continues its live tour.

VICTOR UND VIKTORIA
8-9-10 MARZO 2019
by Veronica Pivetti
In the background of a 1930s Berlin, a hilarious Veronica Pivetti tells us a story full of changes of sex, exchanges of person and rich in intertwining sentimental without the exclusion of blows. (Show in italian)

DOVE SONO LE DONNE
12 MARZO 2019
by Michela Murgia.
Michela Murgia brings her point of view on the 'female issue' for the first time in the theater. (Show in italian)

LA GRANDE STORIA DELL'IMPRESSIONISMO: L'INCANTO DELLA PITTURA DA MONET A VAN GOGH
17 MARZO 2019
by Marco Goldin
Since 2005, Marco Goldin, unanimously recognized as the greatest expert of Impressionism in Italy, successfully stages, on the stages of the most prestigious Italian theaters, stories / performances created to introduce, in a strongly way linked to the emotion, his great exhibitions, always at the top of the rankings among the most popular in Italy and in the world, with over eleven million visitors in the last twenty years.

FIGLIE DI EVA
15-16-17 MARZO 2019
by Maria Grazia Cucinotta, Vittoria Belvedere, Michela Andreozzi
Figlie di Eva is the story of a solidarity but also of the feminine condition, forced to stand a step backwards but able, if provoked, to bring out ingenious resources. (Show in italian)

ALICE IN WONDERLAND
19 MARZO 2019
by Circus-theatre Elysium
Alice in Wonderland is a sophisticated and elegant artistic project able to narrate the oneiric intertwining many disciplines: acrobatic gymnastics, acting, dance. Theatrical performance based on the legendary story of Lewis Carroll. They will appear to the public in their circus interpretation, against the backdrop of impressive 3D scenes. The story of Alice is make richer with a love story.

LA BELLA ADDORMENTATA
21 MARZO 2019
by Compagnia Balletto del Sud
Idea of Franzutti, one of the best-known choreographers on the national scene, to bring the misadventures of the beautiful Princess Aurora back to the south of the country. The Princess is a fresh Mediterranean girl to whom an old sorceress predicts an atrocious destiny.

LA CENA DELLE BELVE
22-23-24 MARZO 2019
by Marinella Bargilli, Francesco Bonomo, Maurizio Donadoni
The award-winning French theatrical show "Le Repas des fauves" arrives in Italy with extraordinary cast and direction. (Show in italian)

UNA VITA DA ZINGARA
28 MARZO 2019
by Iva Zanicchi
(Show in italian)

PATTY PRAVO: RED TOUR
29 MARZO 2019
by Patty Pravo
Patty Pravo comes back in Bologna with her 2019 tour. Today, the immortal and rebellious girl of Piper, does not stop being herself: free, unique, eccentric, provocative. In a word, a diva, one of the Italian music.


Bologna Art Hotels services:
- Accommodation
- Rich Buffet Breakfast
- Internet navigation (wireless connection in all rooms)
- Free use of hotel bycicles

On request, the following services can be provided:
- Round transport from and to the Airport G. Marconi of Bologna
- Bus city tour with City Red Bus
- Special city guided tours (Bologna's Towers, shopping, Gourmet tour, etc.)

Information and bookings:
- Phone +39 051 7457338 – E-mail info@artravelpoint.it
- Click on BOOK NOW and select the Hotel and the room You prefer.
-How to reach us – City Map

We are waiting for you in Bologna! Kind regards, Piter.

Promotion subjected to availability of the services offered.
Technical Organisation by Art Travel Point s.r.l.